Under the proposed boundary change, Scarborough-Agincourt neighbourhoods west of Warden and south of McNicoll would be absorbed into the North York riding of Don Valley North.
Scarborough could lose an entire riding.
There are currently six federal electoral ridings in Scarborough, if the proposal is adopted, the number will be reduced to five. This means Scarborough residents will have less federal representation in the house of commons. 
The Federal Electoral Boundaries Commission for Ontario has proposed collapsing a sizeable portion of Scarborough—Agincourt and an area of the neighbouring riding of Scarborough North into a single riding, renamed as Scarborough Northwest.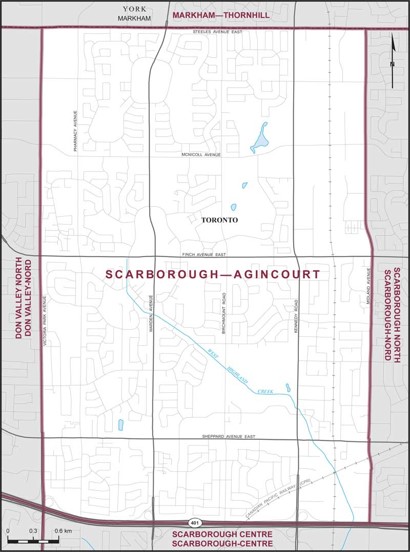 Current riding of Scarborough—Agincourt. For a larger view, click here to open in browser.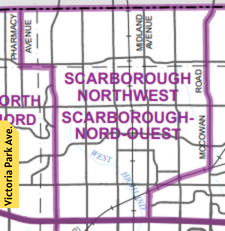 Proposed riding of Scarborough Northwest. For a larger view, click here to open in browser. 
With this proposed change, Scarborough—Agincourt is being broken up, redistributing a good part of our community into North York. The proposed change disregards the cultural identity and historical significance of the Agincourt community.
 
Redistribution Criteria
In establishing the electoral district boundaries, Commissions must take into consideration:
population;
communities of interest;
communities of identity;
and the historical pattern of an electoral district
Under the proposed boundary changes, many residences who are currently served by the Toronto Police 42 Division would no longer be within its jurisdictions.
Communities of Interest
Scarborough has a network of interconnected local services, organizations and businesses. Not considering the area's unique demographics jeopardizes the service areas of 42 Division community policing, local healthcare and other community services.

Communities of Identity
Agincourt is North Scarborough's oldest community. The redistribution disregards the historical and cultural identity and significance of the Agincourt name. The entire North Scarborough community grew out of Agincourt Village, which was established 164 years ago.

Population Growth
The proposal does not account for the fact that our population is still growing, with 5 projects under construction currently, and 15 projects pre-construction.
How to Make Your Voice Heard
 
Attend a public hearing as a participant or observer.
You must sign up to attend. We recommend you do so as soon as possible, even though the deadline is Sunday, September 25, 2022. Click here to fill out a Public Hearing Participation Form.
 
Virtually:
City of Toronto virtual hearing, Thursday, September 29, 2022, 6:30pm. Link will be provided. 
In person:
Scarborough Civic Centre, 150 Borough Drive (Committee Rooms 1 and 2), Tuesday, October 18, 2022, 6:30pm.
 
Send written comments to the Commission.
Send an email to the Commission using the following email [email protected] or by clicking here.

Send a letter via regular mail to:
Ms. Paula Puddy
Commission Secretary
Federal Electoral Boundaries Commission for Ontario
PO Box 37018 Southdale
London, Ontario N6E 3T3
     3. For further engagement, participation and action, send an email to join a non-partisan community organization.
Scarborough Citizens Coalition, [email protected]
Agincourt Village Community Association, [email protected]
Scarborough Community Renewal Organization, [email protected]
Scarborough Business Association, [email protected]
Show your support to make sure Scarborough—Agincourt, and all Scarborough ridings, remain intact as distinct but united voices.