Rouge National Urban Park Walk: Beare Hill Park - June 11, 2022
Rouge National Urban Park Walk
Beare Hill Park
Date: Saturday, June 11, 2022
Time: 4:00 PM to 5:30 PM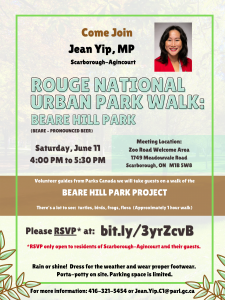 Come join MP Jean Yip for a hike at the Rouge National Urban Park - Beare Hill Park Project. Guided by volunteers from Parks Canada, this hike will be the perfect time to spot wildlife, river views, and stunning landscapes.
For more information about this trail, please visit:
https://www.pc.gc.ca/en/pn-np/on/rouge/activ/randonnee-hiking/thuyas-cedar

Please RSVP* at: bit.ly/3yrZcvB
*RSVP only open to residents of Scarborough-Agincourt and their guests.

Rain or shine! Dress for the weather and wear proper footwear. Porta-potty on site. Parking space is limited.
For more information contact: [email protected] or 416-321-5454
Meeting Location:
Zoo Road Welcome Area
1749 Meadowvale Road
Scarborough, ON M1B 5W8
For more information on directions for car, public transit and bicycle, please visit the "How to get Here" section in the following webpage:
https://www.pc.gc.ca/en/pn-np/on/rouge/visit/se-rendre-get-there/toronto/zoo