June 10, 2021
On Thursday, June 10th, I, with Infrastructure Minister Catherine McKenna, Premier Doug Ford, and Mayor John Tory, had the pleasure of announcing $66 million dollars of joint funding and transfer of land towards the Bridletowne Neighbourhood Centre.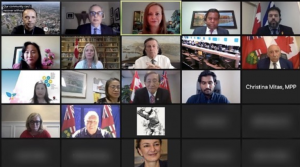 The BNC is an 82,440 square foot space for community, youth, seniors which includes a 50 unit dialysis centre, pool, fitness centre, program space - including child care and before and after school programs - and a nurse-practitioner led clinic.

This project could not be possible without our community leaders and partners including the Scarborough Health Network, the YMCA GTA, the United Way Greater Toronto, Hong Fook, Senior Persons Living Connected, and CareFirst Seniors.
It was announced on former Member of Parliament Arnold Chan's birthday.
The full link to the livestream announcement can be found on www.facebook.com/ymcagta