Announcing 2.6 Billion Dollars for the New Scarborough Subway Extension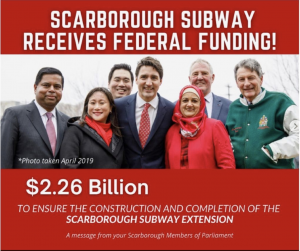 Joint statement from the Scarborough Federal Liberal Caucus on the Scarborough Subway Extension

Hon. Bill Blair, Minister of Public Safety and Emergency Preparedness
Gary Anandasangaree, Member of Parliament Scarborough – Rouge Park
Shaun Chen, Member of Parliament Scarborough North
Hon. John McKay, Member of Parliament Scarborough Guildwood
Jean Yip, Member of Parliament Scarborough – Agincourt
Salma Zahid, Member of Parliament Scarborough Centre
"The Scarborough Subway Extension is coming!
Today, Prime Minister Justin Trudeau announced a federal investment of $2.26 Billion for the construction and completion of the Scarborough Subway Extension. This extension will add nearly eight additional kilometers of rail into Scarborough, along with three additional stops along the TTCs Line 2 (Bloor-Danforth).
Since 2015, members of the Scarborough Federal Liberal Caucus have been advocating extensively for the development of rapid transit in our shared community.
Decades of indecision and under investment have shaped Scarborough into one of Canada's most chronically underserved urban centres. The Scarborough Subway Extension is an important step forward in our collective effort to achieve transit equity for the over 630,000 residents who proudly call Scarborough home.
Extending eastbound from Kennedy Station, the Scarborough Subway Extension will see the development of three additional stops proposed at: Lawrence Avenue East, Scarborough Centre, and Sheppard Avenue East.
With an estimated 105,000 daily boardings, the Scarborough Subway Extension will enhance accessibility to critical health and social support services, incentivise commercial development, reduce gruelling commute times for seniors, students and workers, and help level the playing field for Scarborough residents.
Earlier this year, the Government of Canada committed to invest $14.8 Billion in new funding for transit projects over the next eight years, and $3 Billion per year ongoing thereafter.
Today's historic investment in the Scarborough Subway Extension, coupled with a $3.24 Billion investment from the Government of Ontario, builds upon our government's pledge to shape transformative change in communities across the country, and ensure that in Canada we continue to build back better."
Quick Facts:
The Government of Canada will contribute $2.26 billion to the Scarborough Subway Extension (SSE), the Government of Ontario will contribute $3.24 billion;
Projected ridership of the SSE will be ~105,000 daily boardings.
The SSE will increase local transit use by ~52,000 daily boardings by new users
The Scarborough Subway Extension will connect riders to up to 6 additional transit options: 1 GO Train line- Stouffville, 2 local rapid transit lines – Line 5 (Eglinton Crosstown); planned connection to future Sheppard Subway Extension, 3 bus services – GO Transit, Durham Region Transit, and TTC Buses.
The SSE will be within walking distance of 38,000 Scarborough residents.
The SSE will reduce yearly greenhouse gas emissions by ~10,000 tonnes.